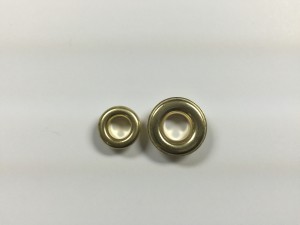 Eyelets and Grommets… What is the difference between the two? Most people assume that grommets have washers and eyelets do not. This would be incorrect. Eyelets actually do have a backer, but most applications that it is being used in, it becomes unnecessary. If you look at the picture to the left, you will see a grommet and a eyelet that have the same hole size. The differences between them are the flange diameter and the overall look of the two. The flange diameter will always be larger on a grommet. The flange is the top part of the eyelet or grommet. It is the part that doesn't change when it is applied to your material. It is used for extra holding strength so it will always be bigger. The look of an eyelet has a more finished look while the "grommet" has a more "industrial" look.
The color chart shown below is a reference for some of the more typical colors available. Custom colors can be applied upon request. A 1″x 1″ swatch of the desired color will be needed for color matching. The color will be matched as close as possible with perhaps a 10% variance in color. You may see some slight flaking, chipping or scratching of the grommet or eyelet upon setting.
The G.S. Eyelets that we offer are the best choice if you are looking to attach multiple layers together. G.S. stands for "Graduated Size". This simply refers to the length of the barrel. GS eyelets usually do not go past .437", depending on the outside diameter. Material that will be attached to each other will need to be verified for overall thickness to determine the proper eyelet size and length. Our Grommet service can include but not limited to Banners,Paper Products,light weight materials,heavy duty materials, and PVC products.
Clear Choice only offers solid brass when it comes to our eyelets and grommets unless asked otherwise. Don't be fooled with cheaper products that are said to be brass but really are only brass plated steel or some other cheaper metal. Why does this matter? Solid brass will not rust. This is a very important quality to consider if your product is going to be exposed to rain or humidity. There are two ways you can test your brass. One… Use a magnet. A magnet will not stick to solid brass. Two… a deep scratch on the surface will expose the steel showing that it is plated.
Here at Clear Choice, we know that one size won't work for all of our customers. Because of this, we offer a variety of popular sizes of Eyelets and Grommets. If we do not have the Grommet or Eyelet size your company is looking for, please let us know and we will do our best to accommodate your needs.
Click any of the images below for a better look.
[one_third]
[/one_third]
[one_third]
[/one_third]
[one_third_last]
[/one_third_last]
[one_third]
[/one_third]
[one_third]
[/one_third]
[one_third_last]
[/one_third_last]
[one_third]
[/one_third]
[one_third]
[/one_third]
[one_third_last]
[/one_third_last]