Clear Choice is now offering Adhesive Coating to our list of capabilities. We can coat Sheet-fed Stocks, Roll to Roll Medias, or Thick Substrates up to 1" thick.  Coating can be done one sided or two sided.  We have several different types of adhesives that we currently offer.  Certain Adhesive films come in transparent or opaque, Permanent or removable, and pressure sensitive applied or heat activated applied.
Below is brief description of the products we now offer.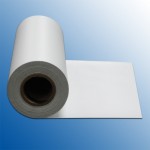 General Mounting Acrylic Adhesive/Solvent Rubber Adhesive
These two sided adhesive products are designed to create a permanent bond between two items, typically printed media and a substrate. General mounting adhesives feature a carrier film that is coated with adhesive on both sides and are protected by a single release liner. These products come in: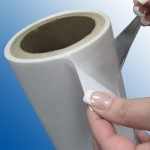 2 mil Transfer adhesive
This transfer adhesive has excellent high and low temperature performance and is resistant to most harsh environments. The adhesive can withstand common organic solvents, acids/bases, salt water, cleaning solutions, oil, and more.
5 mil Transfer Adhesive
This configuration offers added thickness for hard or irregular surfaces including glass, plastics and painted/coated metals. The adhesive is highly resistant to most environmental conditions including high and low temperatures and chemical exposure. 5 mil transfer adhesives are commonly used in applications including gaskets, labels, nameplates, and more.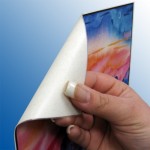 Floor Graphic Adhesive/ Clear or Opaque
Opaque floor graphic adhesives feature a white polyester film carrier coated on one side with a permanent pressure sensitive adhesive and a removable adhesive on the reverse side that is applied to the floor. The white opaque carrier prevents background tile color from showing through. This adhesive is designed for temporary floor graphics that will be removed.
Graphic Wall Adhesive
Graphic Wall Mount Adhesives feature revolutionary microsphere adhesive technology that allows graphics to be repositioned on walls up to 10 times. These microspheres won't leave behind any adhesive residue when graphics are removed up to 1 year after application.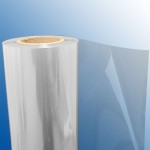 Optically Clear Permanent/Removable 
Optically clear permanent adhesives feature a clear polyester carrier coated on both sides with a permanent solvent acrylic adhesive. The adhesives include Two polyester film liners protect both sides of the adhesive and give the product a completely optically clear look. Optically clear permanent adhesives are ideal for permanent indoor or outdoor mounting applications to glass or acrylic. Optically clear removable adhesives can be used for short to long-term/permanent mounting applications since the removable adhesive offers a strong bond that will not lift from glass or acrylic until purposely detached. Optically clear removable adhesives are ideal for window graphics and face mounted acrylic pieces. These adhesives are:
Window Adhesive
Window Adhesives are optically clear mounting adhesives featuring a permanent solvent acrylic pressure sensitive adhesive on one side and a removable adhesive on the reverse that is protected by a textured air egress liner. This advanced, heavy duty egress liner creates air escape channels in the adhesive that allows for bubble-free installation on interior or exterior windows. Window graphics can be easily dry mounted by untrained individuals without requiring water or other wetting agents Window Adhesives are designed for short to medium term interior or exterior window graphics.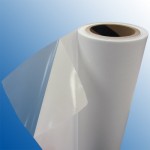 Optistick Permanent/Removable
Optistick permanent is a unique optically clear mounting adhesive solution that features a clear polyester carrier film coated on one side with a low melt thermal adhesive and a permanent solvent acrylic pressure sensitive adhesive on the reverse. The permanent pressure sensitive adhesive is protected by a clear polyester release liner that is removed just prior to application. This unique configuration allows users to create permanent decals and window graphics.
Optistick removable adhesives offer the same unique characteristics as Optistick permanent products, only with a removable solvent acrylic pressure sensitive adhesive on one side. Optistick removable is ideal for cost-effective window graphics that can be applied on site. These optically clear adhesives are designed for interior window use.